NEWS&TOPICS
May 26, 2017

Notice of company emblem was changed.

May 30, 2016

Notice of Tokyo office's moving was published.
NED's Biomass Power Plant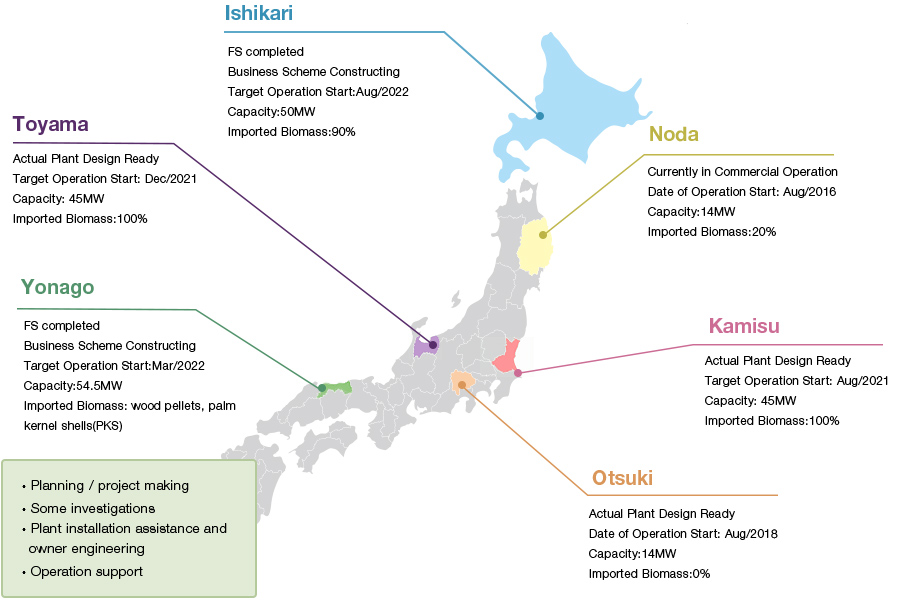 The Main Plants
We established Otsuki Biomass Hatsuden K.K. in October 2010, and have been working with Yamanashi Prefecture and Otsuki City on the "Otsuki biomass power generation project (tentative name)" from the planning stage on administrative formalities including environmental impact assessment procedures.

In April 2015, we sold all our shares in Otsuki Biomass Hatsuden K.K. to Obayashi Clean Energy Corp., a wholly-owned subsidiary of Obayashi Corporation, thereby transferring business rights to the Obayashi Group.

We will continue to support the Obayashi Group, the business owner, as a technical advisor, working toward the commencement of commercial operations in August 2018.

Since 2012, we have been working on a project to construct a 14,000 kW capacity biomass power plant in Noda-mura, Kunohe-gun, Iwate. The site is an area of approximately 30,000 m2. We estimate that 140,000 tons of fuel will be consumed annually, which is comprised of 70,000 tons of unused wood, 10,000 tons of bark (the outer covering of a log), 20,000 tons of pruned branches, and 40,000 tons of palm kernel shells (PKS), and everything will be produced domestically except PKS. Within the premises, we are considering to construct facilities for crushing, drying, biomass fuel storage, and recycling burned shells, in addition to the power plant. Total investment is approximately 6.5 billion yen, and we estimate an annual income of approximately 2.6 billion yen through sales of electricity to utilities.

In September 2012, we concluded a memorandum of understanding with Noda-mura concerning the biomass power generation project and the "Noda New Energy Power Generation Co., Ltd.," a local subsidiary, was established in February 2013. Local briefings were held following the briefings for landowners. The village administration office and forest owners' association of Noda-mura, related companies and others explained to the Reconstruction Agency and Iwate Prefectural Government about the biomass power plant construction project. The company's name was changed to Noda Bio Power JP Co., Ltd. on August 1, 2014, which was announced through a press release. A news conference and a ceremony to pray for safety were held on August 6, 2014. The construction was completed in May 2016. It officially started commercial operation in August 2016.

We are planning to develop a biomass mono-fuel power generation project in the Ishikari Bay New Port Industrial Park in Ishikari City, Hokkaido. The site of approximately 50,000 square meters (5 ha) will have a power plant constructed there with a generating capacity of 50,000 kW (50 MW) of electricity, one of the few such large scale plants in Japan. We plan to use fuel such as palm kernel shells (PKS), a type of biomass fuel imported from overseas, along with local wood. Imported fuel will be unloaded at the West Wharf of the Ishikari Bay New Port.

The power plant will continue to operate in Ishikari for a long period of time, over 20 years or more. A biomass power plant in particular is a type of power plant that depends on people. This means that local employment opportunities will be newly created. A ripple effect is also expected across industries associated with the power plant. As a company operating in the power generation business, we will also, for example, contribute to the region by paying city tax and prefectural tax. The power generated will be supplied throughout Hokkaido through Hokkaido Electric Power Co., Inc.

We will continue to collaborate and develop closer cooperation with administrative bodies such as Hokkaido, Ishikari City and the Ishikari Bay New Port Authority, as well as with local businesses such as Ishikari Development Co., Ltd., as we work toward bringing the project into being.
Main Business Activities
Electric Power Produce and Supply
Planning
Construction
Operation
Management
PKS (Palm Kernel Shells)
TEB (Torrefied EFB Briquette)
Cashew Nut Shells
Generating Power Wholesaling
Based on FIT
(Feed-In Tarrif scheme)
Company Overview
Name
New Energy Development Co., Ltd.
Established
October 25, 2011
Head Office
550-1 Iwamoto-machi, Numata-shi, Gunma 378-0021,Japan
Phone : +81-278-23-8601 Facsimile : +81-278-23-8617
Tokyo Office
Tanakayaesu Bldg 2F, 1-5-15 Yaesu Chuo-ku, Tokyo 103-0028,Japan
Phone : +81-3-3527-9895 Facsimile : +81-3-3527-9893
Representative
Shinya Takahashi
Business
Power Generation Business
Biomass Fuel Supply
Power Wholesale
URL
www.n-e-d.net